Overview
After hiking over 2,000 miles in the UK countryside, sniffing out the best country pubs, consuming literally barrels of real ale and leading numerous tours for close friends through the British countryside, I've decided to open up my walks to a wider audience.
This summer, interest permitting, I intend to lead a group or two through my favorite area in England: the Yorkshire Dales. Not only are the Dales naturally beautiful and serene, replete with babbling brooks, green valleys (where no cell signals have ever entered) and ancient dry stone walls, the pubs are exceptional. More than exceptional even, some of the best pubs I've ever visited.
Last year I led a group of eight on the same 90-mile, seven-day route of my own devising. There are many popular trails that honeycomb the area, and I have stitched together portions of many of these trails with a focus on visiting the best country pubs the Dales has to offer.
Route and Spots of Interest
The walk begins at an enchanting church in the town of Ilkley. The hills outside of Ilkley, famously known as Ilkley moor, contain archeology dating back to the Mesolithic era, some 13,000 years ago. Mysterious early bronze age rock carvings on the moor provide the first evidence of nearly 4,000 years of continuous occupation. At the parish church, we will spend a few minutes surveying some dusty stones that showcase the different eras of Ilkley's deep history.
From Ilkley, we will walk on the Dales Way along the River Wharfe, passing a number of noteworthy sites including, the Strid and the picturesque ruins of Bolton Abbey. Our first day of walking will conclude in Burnsall. We will dine at one of the best pubs in Yorkshire, The Craven Arms, where we find Yorkshire's most storied beer, Old Peculiar, served from a wooden cask (one of only three accounts with such wooden casks).
On day two, we will spend another flat day along the Rivier Wharfe heading to the tiny hamlet of Hubberholme. Aptly described as no more than a bridge, a church and an inn, Hubberholme plays host to an isolated 14th-century gem, The George Inn. With absolutely nowhere to go, we will feast on award-winning Yorkshire savory pies and spend the night in front of a fire under a 700-year-old oak beam, sipping local real ale. If we're lucky, the innkeeper, Ed, will crack some of his excellent jokes. There's no wifi, or cell service. It is wonderful.
On our way out, we will take in some local history at the nearby Norman church. At this point on day three we will diverge from the Dales Way as we cross the Dales on a hilly, windswept, isolated moor walk from Wharfedale to Wensleydale. With a rest day in Askrigg, a postcard-perfect village prominently featured in the BBC series All Creatures Big and Small,  we will take a short taxi to the wonderfully ramshackle Green Dragon. Its notoriety comes naturally, as the home of the largest single-drop waterfall in the UK, which is famous in its own right because it was the location for Kevin Costner's nude swimming scene in the worst Robin Hood film ever made. Either a short walk or taxi ride will take us to the town of Hawes where we can visit the world-famous Wensleydale Creamery.  After we settle back down at the local pub in Askrigg, if we feel daring, we can charge into the pitch black for about two miles to the dirtiest, most unique pub I've ever visited, the 15th century Victoria Arms.  We will either be immediately thrown out or have the time of our lives.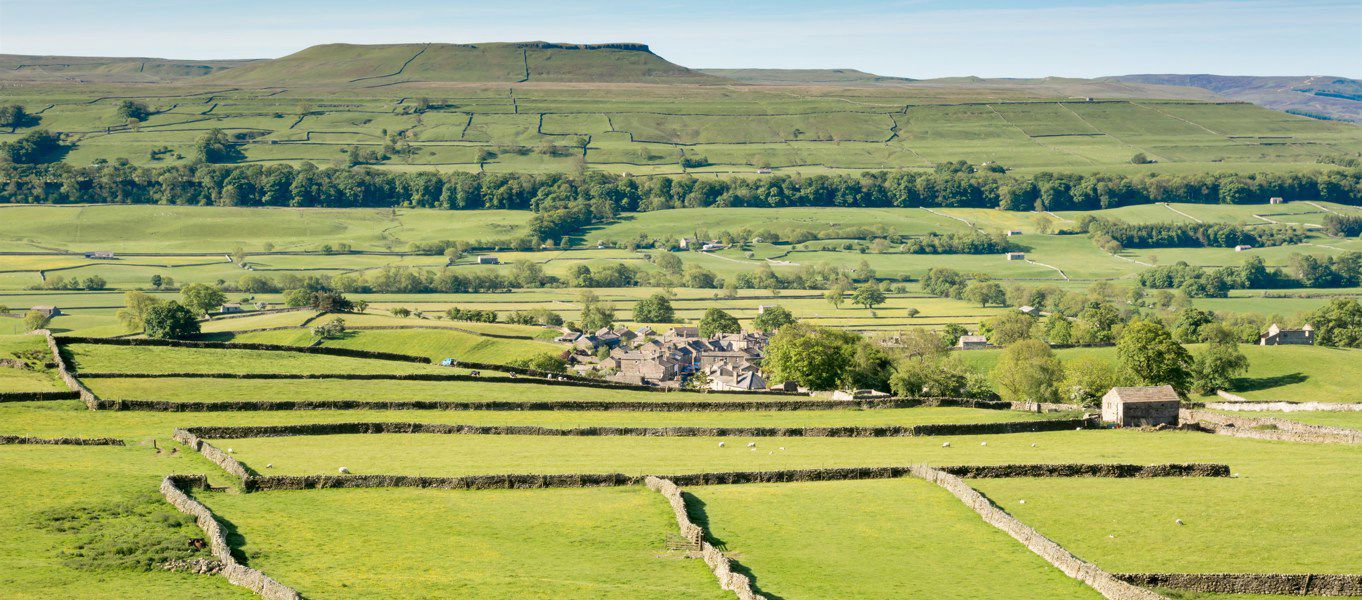 On day four, we will again head up the Dales and leave Wharfedale for Swaledale. Lunch will be at my favorite spot in the UK: the charming village of Muker. From Muker, it's up another hill and through another treeless moor to the profoundly isolated inn of Tan Hill. The highest altitude pub in the country also has a reputation for being a bit raucous, so expect a night of banter and highly contentious pub games.
From Tan Hill, it's back down into Swaledale to the charming but quiet village of Reeth. From which, on our last day we will follow the River Swale out of the Dales and into the medieval market town of Richmond. Richmond is known for its well-preserved 11th century Norman castle. After that last day of hiking, we will spend the night eating and sipping perfectly kept cask beers at my favorite pub in the world, The George and Dragon. If we're lucky, the publican will let us peek into the cellar of Yorkshire's most decorated pub.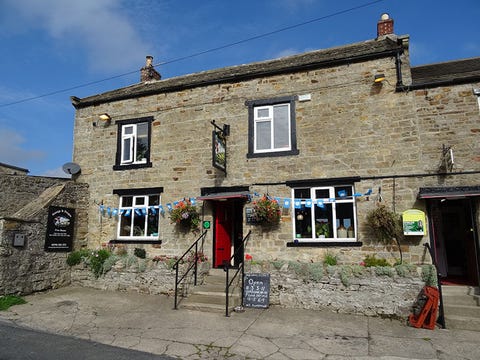 In the morning, you'll be back on your own. I'm happy to give you my suggestions to extend your trip or directions on how to get to the nearest train station or airport.
What to Expect
A seven day trip, with six days of walking for a total of roughly 90 miles. We will take one rest day in the middle of the trail.
The British refer to these types of excursions as "walking tours." I like to use the word walking rather than hiking because I think our notion of hiking in the US implies something more arduous than what you can expect on one of my walks. That being said, the region is very hilly and some level of fitness is required. Interested walkers don't need to be super fit but if your lifestyle is ordinarily sedentary, training is highly advised.
The average walking day is about 13 miles, with the longest at just over 15. We start after breakfast, usually around 9am, stop for lunch and a pint or two in a village, and arrive at our destination in the mid-afternoon. After a shower and a little downtime, we will walk to the pub to eat and spend the last hours of the day sipping and making friends.
You will be required to carry a small day pack with light rain gear, water, and snacks. The bulk of your luggage will be forwarded inn to inn daily by a baggage transfer company.
Groups will be limited to four-six participants. Ideally, I'd like to take two different groups, on back to back weeks. In late August to early September.
England is notoriously rainy. However, the late summer is the driest season. I rarely experience more than a day of consistent rain on any given week. I cannot promise pleasant weather. A wet season will result in mud and wet shoes but will make the pub's open fire that much more enjoyable at the end of the day.
It is not uncommon for a walker, sometimes many walkers, in one of my parties to sustain minor joint injuries: i.e. muscle/tendon pain, swollen joints, blisters. If walking becomes unbearable, I will help arrange a taxi to our next destination. On this trail, we will never be more than a handful of miles from emergency services. No one has ever become seriously hurt but walkers should be aware that I am not trained in field medical services.
I make every effort to stay with the party. If desired/necessary, I will stay with the slowest walkers should we separate into more than one group.
I will meet you in Ilkley, where the trail starts. When we are done, I can arrange transportation for you to either the closest train station or city.
Accommodation and Meals
It's important to understand that we will be in very rural areas. Often, the only accommodation is a small inn or BnB. While most of the accommodations are comfortable and clean, be aware that there will be an occasional accommodation that will leave something to be desired. My price assumes each attendee will share a room with another attendee and possibly (but only occasionally) two. All efforts will be made to put friends together. Occasionally, booking realities will result in a room for a single person. All single rooms will be split among the parties in the most equitable manner according to my judgment. Should attendees want their own room each night, I will be happy to arrange it for an increased fee based on the actual increased cost.
Many rural pubs require advanced booking; often there will be only one pub in the village in which we stop. I will arrange the restaurants for lunch and dinner each day. Vegetarian options are almost always available but often require advanced notice. Most dinners will be in a pub and most offer outstanding food. Meals are a bit more spendy than we are used to but not exorbitantly so. Expect to spend $20-$30 in food a night. Lunch is often less than $15. These prices do not reflect alcohol. At current exchange rates, a beer will run you roughly $5 for an imperial pint. Once or twice it may be necessary to purchase a packed lunch from the accommodation. This will all be arranged beforehand. Breakfast is often included in the cost of accommodation.
Dates
I find late August/early September to be the best time for most people. Flights are considerably cheaper, kids are back at school and it's a little easier to find accommodations. After looking at prices from Phoenix, this is my proposed tentative schedule:
Group 1: Friday, August 28 – Friday, September 4, beginning to walk the morning of Saturday, August 29
Group 2: Saturday, September 5  – Saturday, September 12, beginning to walk the morning of Sunday, September 6.
These dates can be shifted a week or two forward or backward but I strongly recommend arriving in Ilkley on a Friday or Saturday.
Fee
My per person fee is $1,250. Included in the fee:
All accommodations (assuming predominantly shared occupancy) for all eight nights, most of which will include breakfast
Personal guide services for the group on all 90 miles of the trail
The cost of baggage transfer from accommodation to accommodation (calculated based on a single bag weighing less than 44 pounds, additional bags will cost extra)
Arranging all lunches and meals (but not the cost of meals)
Any necessary group transportation to and from the trail during the walk (not including transportation due to injury or choice to skip a section)
Advice on gear, training, tickets and travel logistics, and add on trips while in the country
A digital map of the trail, including surrounding areas with notations for all accommodations and points of interest
Not included in the fee:
Airfare
Transportation to Ilkley and transportation from Richmond
Any food and drink not otherwise included in accommodation prices
Trip insurance. I require every participant to purchase trip insurance, which among many other benefits, covers the cost of emergency evacuation and medical care. Cost is usually less than $75 for a week.
Deposit
If you are interested in joining one of these walks, a $300 deposit is due upon signing up. Due to the personal costs of each trip, I need at least one group of six participants or two groups (walking consecutive weeks) of at least four participants. Should the threshold number of participants fail to be reached, the $300 deposit will be refunded in full.
The balance of the fee, $950 will be due six weeks before the first day of the walk.
Cancellation
Should you choose to cancel for any reason, any portion of the fee already paid will be refunded only to the extent I can recoup prepaid costs, after giving consideration to any increased pooled costs for other participants. Very likely this will mean once I make initial deposits, most of a $300 deposit will be spent and not be recuperable. If I have to cancel for any reason, the entire amount of any fee paid will be refunded.
Travel
The trail starts in Ilkley. Ilkley is not far from Leeds. I recommend you search for flights that connect to Leeds. From Leeds airport, Ilkley is a 20ish-minute taxi ride. The other option is to fly into London and take a train up to Ilkley, connecting through Leeds' train station. It is imperative that you schedule enough time to make any connections through London.
Richmond is a bit isolated. The Darlington train station is a 20ish minute taxi ride from Richmond. From Darlington, you can connect to major lines in York. Otherwise, it's about an hour taxi ride from Richmond to Leeds. Taxis in Richmond are not cheap and there is no uber.
Next Steps
If you are interested or have more questions, please reach out to me directly at kevinmorriss@gmail.com
Testimonials
Several years ago, I marveled at the Facebook posts from my friend Kevin on his first trip walking across a stretch of picturesque English countryside. It would be wonderful to do that someday, I thought, adding the idea to a mental bucket list. Today, I have been lucky enough to have joined my friend Kevin on not one, or two, but three pub-centric English walks. Without a doubt, these trips have been some of the best experiences of my life. They provide an opportunity to experience England in a way not possible by any other mode of transit than your own two feet.

If you enjoy beer (especially if you geek out on beer styles or beer history), gazing over beautiful countryside, walking to clear your mind and quintessential British pubs that ooze history….do not hesitate to go on Kevin's walk through the best of Yorkshire. In the three walking trips I have taken with Kevin, this itinerary is unquestionably the best of the best. The best walking. The best pubs. The best beer. I enjoyed this itinerary so much that I am likely to repeat it again.

Kevin is a knowledgeable guide and likely one of the most experienced pub walkers in America. In his many miles traversing the UK on foot, he has figured out the ins and outs of arrangings these walks, from where to stay, to the best pubs and how to navigate the locals. From Kevin, you can expect quick wit, tips and tricks to have a great time and periodic history lessons about England, Romans, Norman churches, pubs and beer.

Even though I am sore, tired and ready for bourbon instead of real ale by the end of each trip, there is a mysterious pull that keeps drawing me back. The intimacy of the small villages and pubs, as well as the aura of history surrounding old churches, fields and graveyards, is hard to explain until you experience it yourself. As is the quaffable deliciousness of a fresh real ale (or nine) after a long day of walking.

If you are able, go walk with Kevin. You won't regret it.

-Dennis Mitchell (3 walks with Kevin)

If you've never walked across the English Countryside, you really haven't experienced the beauty of England. I've completed 2 walks with Kevin as our guide and plan to do several more.

Not only does he take care of all the important details, but he also designs his itineraries to accommodate walkers of all skill levels, including alternate routes to avoid adverse weather and even allowing folks to take a day or two off to do their own thing. But with Kevin as your tour guide, it's not just a walk across the English countryside, it's a history lesson as Kevin narrates the walk with British history that really profiles the centuries-old land that built the UK. Now let's talk about the real reason we walk; THE BEER!

Yes, this is a glorified pub crawl, but beer is more than just a malt and hops beverage (even if beer is not your thing- but make no mistake the beer is central to the walk). British pubs are communal gathering places and Kevin is skilled in getting local publicans to roll out the welcome mat and give our group unique, lifetime memories. From sharing a special tap to allowing us to drink until late into the night after closing time some of the best memories I have from a walk are the nights we just hung around a pub and chatted with the locals.

You will build life-long memories, camaraderie with your fellow walkers, and, like me, will want to schedule your next walk soon after you return home.

-Christian Chandler (2 walks with Kevin)

This walking drinking tour is exactly what it says it is.

You'll start the day off with breakfast; Critical you eat breakfast, I suggest skipping a full English style breakfast and get eggs and toast. You'll spend the next 3-4 hours walking in the beautiful Yorkshire Dales. The area you will be walking in is picturesque, just gorgeous, take in the beautiful nature. You'll stop by some country inn and enjoy a pint or two with a bite to eat. Most of these country pubs have terrific food; I'd usually get a sandwich; the bread was always fresh. After lunch, you'll walk 2-4 more hours depending on the distance, until you get to into town or where you are staying. During most of the day, it will be quiet, and there won't be much talking as you'll be enjoying the view of "God's Own County.". Once you get a pint or two in with your dinner, you'll be exploring the local town pubs and drinking beer. These pubs are an absolute blast, some with a lot of history, and most crucial, great English beer.

Kevin is an excellent guide, and he'll take you the best pubs you'll ever go to, you'll have a good time laugh drink, chat with the locals, and you'll do it all again the next day.

-John Warren (2 walks with Kevin)

This trip is a glorious week of rambling around some of the very best parts of Yorkshire with stops at carefully chosen, top rated, real ale pubs and charming B&B's. Parts of this trail are not super well defined so having an experienced guide to get you from place to place is essential.

Highlight include:

Craven Arms – Amazing food, fantastic beer (Try the Old Peculiar from a wood cask). Plan on killing the entire evening here. Ask about a tour through the new addition and a glance at the cellar.

The George Inn, Hubberholme – One of the highlights of the trip. Ed is everything a B&B / pub operator should be. Fantastic beer, amazing pie for dinner, and a great patio out back to hang out in til the wee hours. Bathrooms seemed recently remodeled and the room was great. Order ham and cheese sandwiches for the walk the next day, well worth it.

George and Dragon, Hudswell – Favorite stop of the trip. Amazing food that is worth popping in for even if you aren't drinking. One of the best cellar programs around, everything is super clean and rotated very frequently. Try the pie (rabbit was a standout). Bring a jacket and hang out on the patio for sunset and some great views. 

-Jeremy Jones (2 walks with Kevin)

Kevin's Pub walks checked all the boxes for this 57 year old. Physically challenging without leaving me exhausted. Beautiful scenery in a rural setting that feels ancient and lost in time. Comfortable accommodations that make you feel like a local. Deliciously fresh British meals that defy preconceptions. And the best part for me was the Pubs, the best low-alcohol flavorful real ale served in a fading culture of historic public houses that ooze atmosphere that will take you back 100 years. I enjoyed Kevin's walk so much I've done two and am planning a third.

-Dennis Tsonis (2 walks with Kevin)

First and foremost the trip was absolutely fantastic. Trip of a lifetime.

From the moment we talked about getting this together your directions and planning were first class! You gave us exact flights to book , with a few options , all we had to do was show up.

From the time we landed in Leeds , UK the plan was very clear and concise. All accommodations where planned ahead and first class. My favorite was probably Hubberholme and Tan Hill Inn. A small village with just a inn and church was the perfect fit for us. We sat down after the hike, drank some beers, had dinner, drank some more and went to bed. Didn't have to leave anywhere or worry about walking somewhere or nothing. The day off in the middle of the hike was well planned as well. Great to see a cool cheese monger and walk the local village. The one guest house in the back of the pub was awesome. Had its own kitchen which we where able to pick up some local lamb and cook some appetizers in the guest house before hitting the pubs. The view from the guest house is postcard worthy as well.

About Tan Hill Inn. That place is epic. The customer service from the staff was top notch. They expected us and had a wonderful time in the pub with live music, games and great food and drink! This is a must stop while in Yorkshire.

It was refreshing to have great lunch spots picked out as well along the trail. Even when the Air BnBs made lunch for us they didn't skip out on food. One of the best sandwiches I've had in a long time was that ham/cheese with English mustard on a baguette sitting country side overlooking the Dales. Stunning!

To wrap up the hike I could think of no place I would rather spend the time at other than the George and Dragon. Publican was awesome. Gave us a special tour of his cellar , held the bar open after normal closing time and even sat and had a few beers and whiskey with us. Soon as we got home he ended up winning the Pub of the year for CAMRA Yorkshire.

Overall, all the accommodations/food/pubs etc were top notch. 10 out of 10 and cant wait to do it again in the summer of 2021!

-Trevor Johnson (1 walk with Kevin)